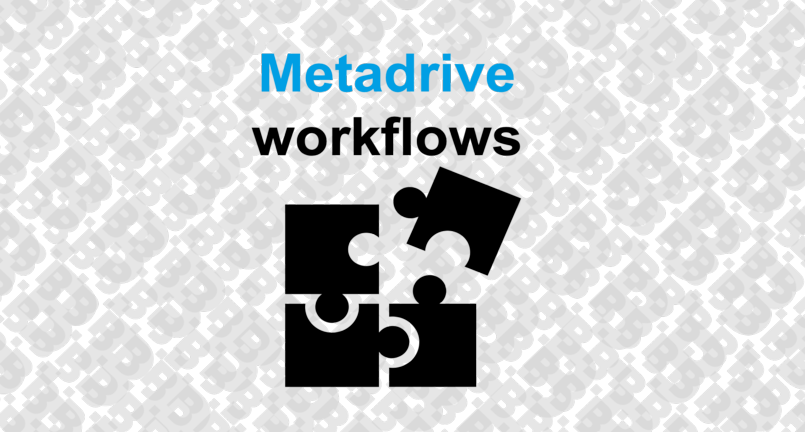 21 Jul

Reasons to automate workflows in your company
What is a workflow?
Workflow management systems organize people, tools and processes in order to streamline teamwork and increase the control in their execution.
In Metadrive we automate every workflow, establishing the steps to follow, who has the control at each of them and the tasks to develop. Moreover, every step is controlled as well as some related actions are automated such as sending notifications, informing managers or moving to the next step when the previous one is complete.
How do we implement them in Metadrive?
The workflows functionality can be implemented in every document, folder, spreadsheet, etc. This can be done thanks to the integration of Metadrive with Google Drive. This way, workflows can be carried out automatically in every file the users have access to in Google Drive , easily by using Metadrive.
Furthermore, as Metadrive in an app specialized in the management of documents stored in the Google Cloud, the new workflows functionality avoids the unnecessary increase in the number of documents when creating copies and distributing them among workers. This practice often leads to a lost of control over them, as they are not able to identify which is the most recent document or if all the steps in the workflow have been carried out.
You can learn how to create these workflows in our application here just following a few easy steps.
All in all, work teams are able to self-manage themselves and implement workflows, without needing to rely on the administrative department of the company at every step.
Benefits of automating workflows in Metadrive
The main advantages of automating workflows are related with the productivity of the firm and can be summed up in the following points:
It is easier to track and monitor the stages of the workflow.
Time is saved in the execution of these flows thanks to their automation, which leads to an increase in the productivity and efficiency of the work teams.
It speeds up and improves decision making.
The scheme provided by the automation of the workflow steps makes it possible to avoid possible failures in the process.
It increases internal communication.
They ease the flow of information about processes between the different departments of the company by being able to set up automatic alerts on progress and selecting the people to send them to.
To sum up, workflow automation minimizes work coordination problems within the business; saving time, money and disruption to the company.
Benefit from all these advantages by starting to use Metadrive for free clicking on this link.