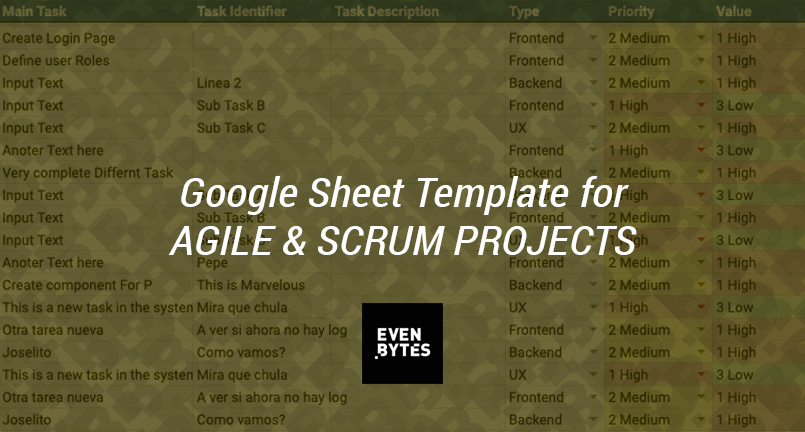 25 May

Google Sheet Template for Agile & Scrum Projects + Reporting & automations
What does the Google Sheet Template provides?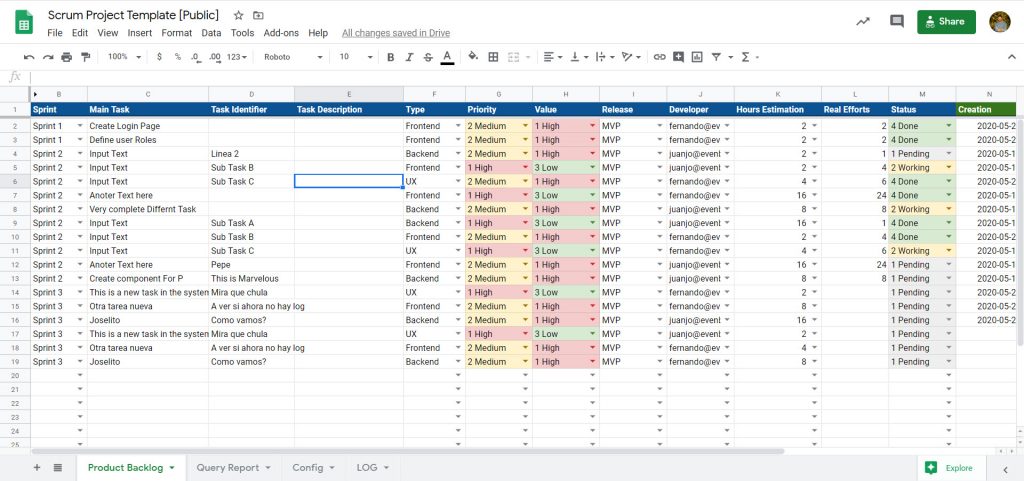 Product Backlog Management
Manage Tasks

Task Categorization
Detailed description of Tasks using your document template
Assign Tasks to team members
Priorities and Estimations
Define your custom task states and categories

Manage Sprints
Define Team members
Automatic System Columns

Created Date
Created By
Modified
Modified By
Task Completed Date

Notifications

When a tasks are completed or in any state you define

When a tasks is assigned to a team member

Reporting

Automatic Reports by Sprint
Overall status of the project
Pending tasks and efforts to finish the sprint

Audit Log to see changes in the project sheet
Automatic System Columns
The Evenbytes Google Sheet Scrum templates, generates and maintains the system columns automatically for you. This will help you to follow up and track the activity of the complete team.
See automatic System Columns in action (See how columns from N to Q for the line created are created automatically):
Detailed Task Description
In case you need to manage subtasks here it's our recommendation to describe tasks in an efficent way.
Use Main Task column to describe the general need of the task, we can call it, parent task. For example, Login page. You can use Task Identifier to describe sub tasks within the main parent task, for example, implement facebook login.
NOTE; If you want you can rename those columns to Parent Task and subtask, the rest of functionalities should continue working.
Finally use the column Task Description for a detailed task description with the information required to do the implementation. I know that to write long description, include links to documents or even include diagrams inside a cell in an spreadsheet is not worth, due to this fact we have developed small script that creates a Google Doc based on the template you configure in Config Sheet, and you can create the document with a keywork, by default the keyword is Create
See it in action:
How it works reporting?
If you want to mesure the efficiency of your team, you will need to have a look to the reporting tab. This Tab is predefined with some charts we find useful in our daily job but you can customize them easily adding yours. If you want to suggest anything, send us an email to info@evenbytes.com
If you want reporting sheet, you need to ensure you have defined properly start and end date for each sprint in the Config sheet.
There is one sheet in the Spreadsheet that will generate automatically the reports based on the Sprint you have defined to show you the status of each of them:
You can filter the view by sprint and the charts will update automatically based on your data. See it in action:
How to run and configure the Scrum project sheet template?

Open it and configure your project in the Config Sheet

Define the list of values for your project (Green Columns)

TIP: Use Developers to define the project members. (Note: use their emails if you want to use user notifications, otherwise you can use nicknames)

Configure Sprint names and dates (Red Columns)

Add as many Sprints as you want, with the names you desire in the Sprint name column
For each Sprint, define start date and finish date.
NOTE: This is very important if you want the reporting to be done properly!

Define Task Folder ID

Let this parameter empty if you want the task description documents are created in the same folder where the template is located.
if you want to task description documents are created in a concrete Google Drive folder, provide here the ID of the folder.

Define Template Doc
Define Creation Keyword

Define there the keyword you want to use to create the detailed trask description documents

Define Initial Status

I think this is self explanatory, isn't?

Backlog Sheet name
Define Final Status

I think this is self explanatory, isn't?

Activate LOG

When this option is enabled, you will get a list of actions done by the scripts in the hidden sheet name LOG

Notify Task Assigned

If you enable this option, please ensure the team members are listed with their valid email address. and they will get notified every time a task is assigned to then

Notify by Status

If you want to notify specific people when a task arrive to a concrete status, write here their email address.
For example, I want to notify xxxx when a task is created.

Add the email of xxx close to the first status 1 Pending.

Do not forget to activate the Google Apps Script automations (See below for activation)
How I can customize the email mesages?
You can customize the email templates for email notifications, editing the HTML templates available in the Google Apps Script. You can access those templates in the menu Tools / Script Editor and click in the html you want to edit.
For example to edit the final notification that it's send when a task is finished, edit the document 4 Done.html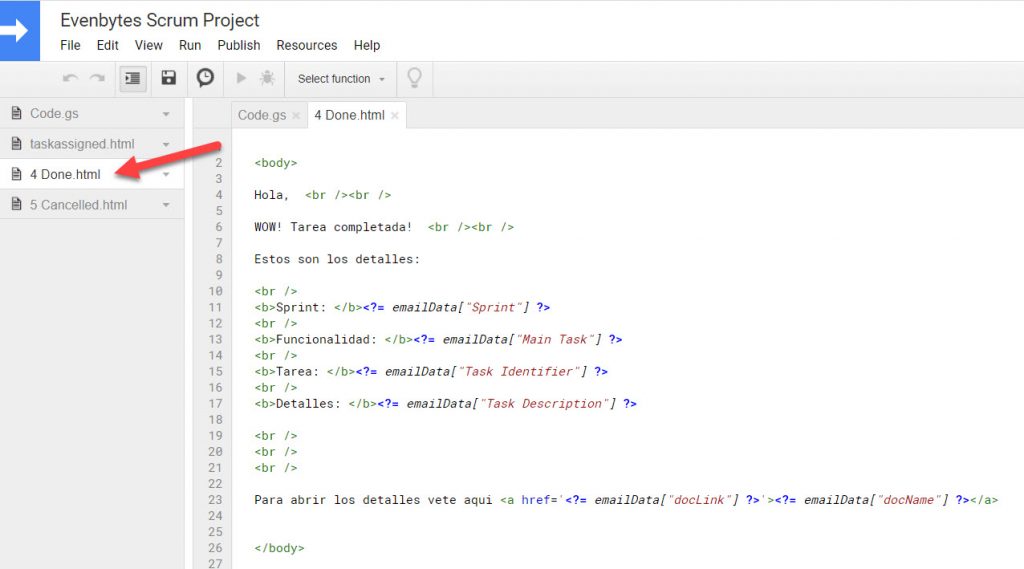 TIP: You can include any Task info in the email by using the syntax <?= emailData["NAME_OF_COLUMN"] ?>
How I can Google Apps Script automations?
The Google Sheet template requires Google Apps script to automate some of the actions. (Using Installable Triggers)
The first time you open the Google Sheet template, you will see Activation Required menu, click there and follow the instructions: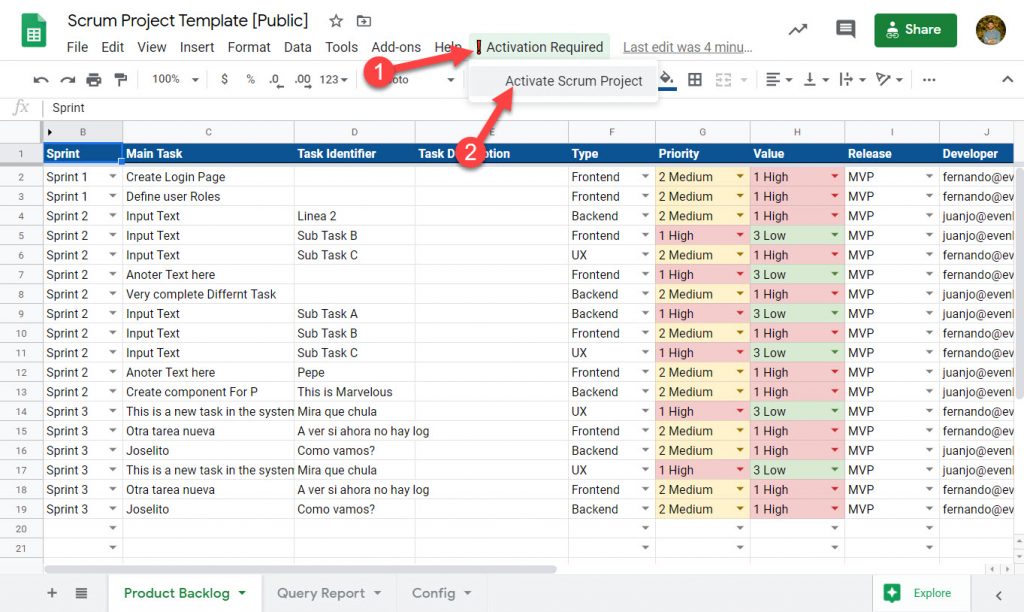 Request Access to the Google Sheet
If you want to test it or use it, fill this form and we will send you the link to the Sheet