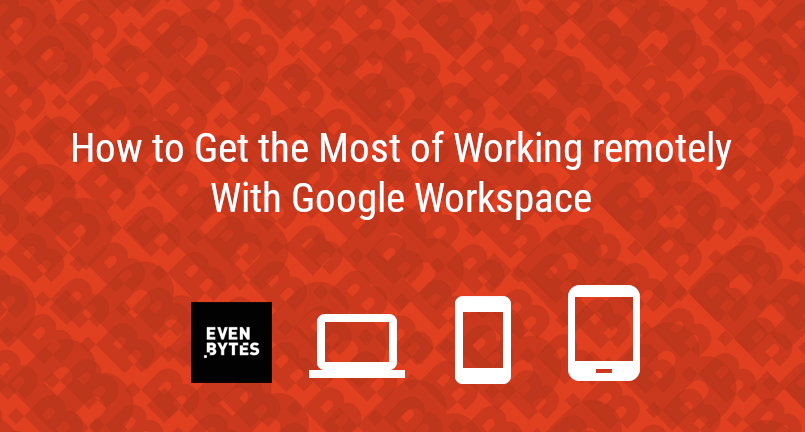 06 Oct

How to get the most out of working remotely with Google Workspace

Unfortunately, due to the sudden situation of confinement that we have been living in most of the world, telecommuting surprised many companies. This has lead to a halt in their activity, as they were not prepared for most of their workers to be able to carry out their work telematically.

This was not the case for our company, Evenbytes thanks to the use to Google Workspace. That's why we want to share our experience of how teleworking has been possible from day one:
The main issue is having all the required work material (docs, spreadsheets, programs, etc.) available for workers in the cloud.
In particular, we use Google Drive and Shared Drives for managing all this material directly from the cloud.
Moreover, we are used to implement tools that ease collaborative work, as Metadrive and DriveWatcher.
Metadrive's main function is helping with document management through tagging and filtering of files in an easy way.
DriveWatcher keeps our team updated regarding the changes made by partners in documents, websites, spreadsheets, folders, etc.
In order to maintain the team's cohesion, we carry out a daily meeting using Hangouts Meet. This allows us to share how our projects are progressing and we receive feedback and help from the rest of the team.
Those are the reasons why the implementation of technology is key for teleworking to be possible. Here, is where Evenbytes becomes relevant in its role as technology and cloud consultancy.
In Evenbytes, teleworking was already available to all the workers that prefered to work from their homes. Also, internally we have already noticed that this type of working has several advantages for workers, such as:
It makes it easier to coordinate personal and professional life. You organize your time as you wish.
You can devote time to work when you are more willing to do so, since you will be working on the basis of objectives, not on spent time. This increases workers' productivity and prevents them from wasting unproductive time at the office.
Workers save time and money on transportation to the workplace. Stress on these journeys and the resulting pollution are also reduced.
These result in more productive but, above all, happier and more comfortable workers in their workplace.
We already know the advantages that teleworking has for employees: comfort, peace of mind and convenience of schedules. But, in addition, it also has several advantages for companies that normally are not considered when making the decision to implement telworking:
As we have already mentioned, teleworking is based on objectives, not on spent time. This implies an improvement in the productivity of workers, since they focus on completing that task and not on the hours they are or are not at their workstation. In addition, as they are in an environment that is pleasant for them, they are more relaxed, so they are also more productive.
As a company, you will be able to benefit from the work of professionals from whom you were previously distant because of the geographical distance. You don't have to hire them full-time, but you can count on them for specific projects or objectives.
The perception that the worker has about the company will improve, understanding that you make his/her life easier. This point is quite relevant, since it is very important the image that your workers have about the company, as they are the main prescriptors of your brand.
Teleworking is also a great help to people with disabilities, for whom travelling to the workplace is an extra effort.
Do not hesitate to contact us if you need help or advice to implement teleworking in your company. At Evenbytes we can help you with this process which is becoming more and more necessary and convenient for companies and workers.